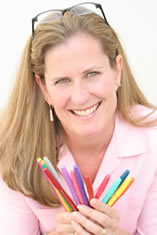 Jamie Nast will be giving an Idea Mapping Course in the UK later this year. Jamie was certified as a mind mapping instructor in 1992, and was the only Senior Master Trainer for the Buzan Centres. In January 2006, she became one of the partners of The Learning Consortium based out of the UK. On Sept 22, 2006 her first book titled "Idea Mapping" was published by John Wiley & Sons.
To date she has taught this skill to over 16,000 professionals around the globe and has licensed over 100 certified instructors from 24 countries. Her clients include Ford Motor Company, Mayo Clinic, BP, ACH, L.L.Bean, Dow Chemical, ConocoPhillips, DTE Energy, Franklin Templeton, MTSU, BMC Software, and more.
See Jamie's course schedule on her web site for further details.